Hi everyone!
Welcome to my blog and the first post on this awesome space on the World Wide Web which I can call mine. Here I will share my experiences as a Web Design & Development student, challenges along the way and how I plan to conquer them.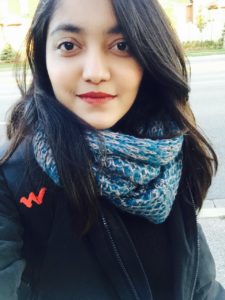 I would like to start my first post reflecting over my first Semester in Web Design & Development. Man! That went pretty quick. It feels like yesterday when I arrived in Canada to join this course and nervous about how it would be. But here I am. Survived and LOVED Semester 1. Here's why –
Getting to meet new people is always so motivating. Getting to know where they are from and their take on Web development brings the Code Ninja community closer.
I learnt so many languages in the first semester! Although it was the most stressful semester(blame the strike!), I am glad to have had professors who could share their knowledge on these languages with us in such a short span. My favourite languages were definitely Javascript, HTML & CSS. I did find .NET a bit difficult at first but I learnt so much more on my .NET project that I am somehow comfortable with it now.
Projects were the most challenging part about this semester. But it helped us expand our creativity and help us develop things I could only dream of in mid-2017! Major win-win. I created a restaurant website using HTML, CSS and jQuery as well as my first CRUD(Create, Read, Update, Delete) feature for a hospital website using C#. More on CRUD on another post very soon!
I realized my love for jQuery has no bounds. Dear jQuery, you make a coder's life easier.
Humber College – They simply don't say this is the best college in Toronto! I agree. 24/7 Learning Resource support is a boon especially when you have project deadlines to meet. The staff is courteous and helps with almost anything you have questions about.
Over all, Semester 1 has been a whirlwind. But I am glad I could survive that and actually love it so much. My expectations for Semester 2 is definitely higher than the first one and I am ready to take on another 3 months of constant learning, new projects and meeting new people through this journey.
Until next time,
Ciao!